Prince Simeon Blackfyre, is the only son of Queen Rose Blackfyre nee' Storm (Baratheon), and 2nd born sonn of King Evenstar Blackfyre. His Step-Mother, is Queen Ravenfyre (Evon) Blackfyre; and has 1 Half-Brother, Prince Bloodwolf Blackfyre, and 3 Half-Sisters; Princess Rhaenra Blackfyre, Princess Naerys Blackfyre, and Princess Lillyblood Blackfyre.
He takes note of Princess Lillyblood blackfyre, and sees her as being too EMO. But atthe same time, finds her attractive. He wishes he was her age, of 16, s he is only 13 going on 14.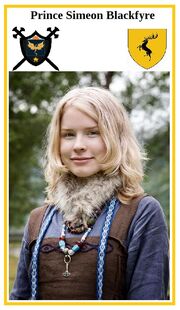 Community content is available under
CC-BY-SA
unless otherwise noted.