Princess Lillyblood Blackfyre, is the youngest daughter of King Evenstar & Queen Ravenfyre (Evon) Blackfyre. Her eldest sister is the first born, Princess Rhaenra Blackfyre-Heir to the Golden Dragon Throne, and the 3rd born-2nd sister, Princess Naerys Blackfyre. He eldest only brother, she thinks is a bit wierd and strange, with a temper, against those who betray, breach agreements, and cross their paths with injustice, and act unruly to his family, and mistreat bastard born children of their world. Prince Bloodwolf, is a skilled swordsman, and is Lord Commander of the Golden Dragon Legion. But he has seldom time to spend with her, and they merely spend time in conversation, unless at a ffeast, celebration, or some other event.
Princess Lillyblood has a Brother-In-Law, Lord Ederic Storm~Bastard Born of former King Robert I Baratheon, who married her sister, Princess Naeerys Blackfyre. She is an EMO, as she always wishes someone would notice her, and want to have her in their life. Yet her half-brother, Prince Simeon Blackfyre, son of Step-Mother Queen Rose Blackfyre nee' Storm (Baratheon) has taken notice. She just doesnt realize it yet.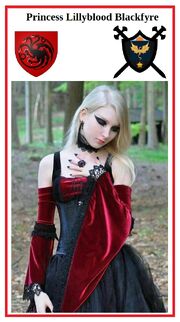 Community content is available under
CC-BY-SA
unless otherwise noted.